Your eyes are the window to your soul. Make them stand out and capture the attention they deserve!
Start with the Basics
Like with anything, you need a good foundation. Apply an eye makeup primer to the entire lid. This will enable the eye shadows and liners to adhere to your lids – giving you a flawless look the entire day and into evening. Airbrushing the base for the eyes is also a great way to acquire a good base.
Luscious Lashes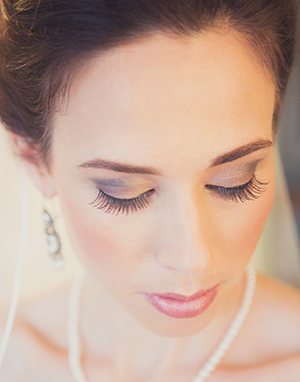 There's no doubt there will be tears of joy! Make sure to use mascara that's waterproof and smudge proof. The best way to curl your lashes is to gently squeeze the curler instead of clamping down.
Another great thing to consider is using lash extensions. They will allow you to have long, gorgeous lashes – without the worry of your mascara running. You can get lash extensions that look completely natural and blend with your real lashes.
Line to Define
Just like with mascara, you definitely want a waterproof liner. For a natural look, go with a brown liner and for bolder look, a black liner does the trick. Dark purple or navy can be used as an eye liner color if you want to pull out some of those shades from your bouquet or wedding theme. Practice using liner on your upper lash lining and the bottom lash lining to see which looks best for you.
Brow Basics
Nothing frames your face better than your brows! Get the shape that's right for you by consulting a professional stylist or makeup artist. For most brides, full brows are recommended.
For a full brow look, use something as simple as a powder eyeliner or brown pencil. When using a pencil, always go a shade or two lighter than your own natural eyebrow color. A highlight color in pearl white or cream is perfect for making the brows look more defined and giving your face dimension.
Complementary Colors
Complement your wedding colors with your eyeshadow instead of coordinating them. Your eyes will stand out better this way because colors won't be clashing. Consider the color of your dress, bouquet, and overall theme or feel of your wedding when deciding eyeshadow. A nice, neutral eyeshadow can often look more flattering and add just the right amount of glow to your look.